Classes & Workshops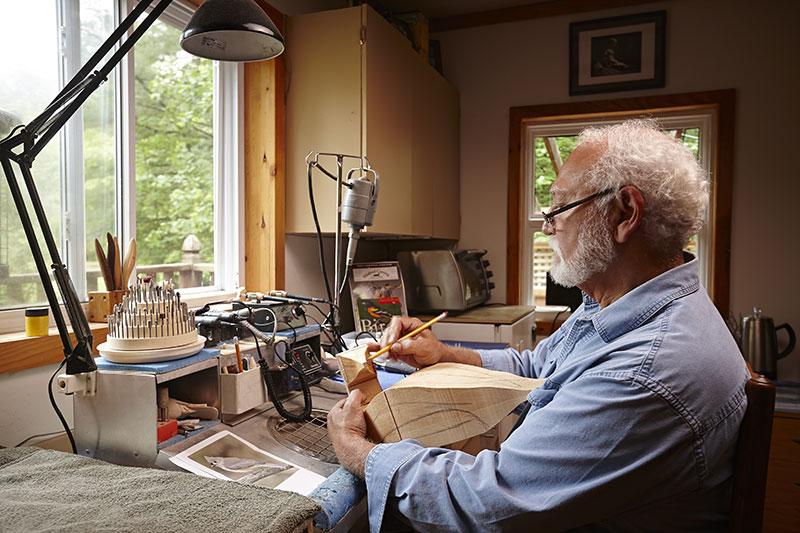 John enjoys sharing his talents with others, either introducing them to the art of bird carving or helping them to take their skills to a higher level.
Over the years, he has taught classes to many students at the novice, intermediate, and advanced stages, taking them through each stage from concept to finished piece.
He also conducts short hands-on workshops specializing in a particular aspect of his craft, such as creating habitat, making sculpey flowers, or perfecting airbrush techniques.
John offers occasional demonstrations that show each step in the creation of a full bird carving. Many of his students have been encouraged to explore the art and try their own hand when they have watched him illustrate the process.
John's classes, workshops, and demonstrations are scheduled throughout the year. Contact him by phone or email for upcoming dates and details.
Email: info@woodsend.ca
Phone: (705) 689-8831
A Glance At His Process
John begins with a block of wood, such as tupelo, which is hard but light, and roughs out the shape.

Each species is meticulously studied to create the perfect contours.

The feathers are etched and burned to capture the bird's complex, elegant plumage; then the brilliant design of nature's hues is realized through precise painting techniques.

John finishes by choosing an artistic mount which suits the style and form of each carved bird, often reflecting its natural habitat.